This is when our next meeting at the Forest will be held. Of course weather is a concern. We had to cancel our last two meetings because of the snow storms. Fingers crossed!
Photo Displays
We need "Monument" photos for the the Bellevue Library.
The Display at the forest has come down. The forest is remodeling the Baright Gallery. The forest is giving us wall space in the hallway between the Atrium and the Forest Room where we meet. We need your thoughts about a subject, such as birds, flowers, plants,…etc. for our hallway gallery. By our agreement with the Fontenelle Forest, photo images must feature themes that can be found in nature (ideally Fontenelle Forest specific), but not mandatory.
Photo Club Photo Contest info
Bellevue University is having an employee art show. This will impact our photo contest display. Here is a schedule:
Setup: – Saturday June 10, 2023
Critique: – Thursday, June 15
Take down: – Saturday, July 8
It will be slightly less time hanging in the gallery but we didn't have a choice due to the University's in-house art show.
Albert Rhea
Albert will be our speaker for the March 16 meeting. Albert's subject will be bird photography. Albert is having an artist reception at Lauritzen Gardens March 5th from 2:00 to 4:00 PM. The reception is free admission. His exhibit will be at the garden February 23 through April 2. Albert says it would be a great lead-in for his presentation at our upcoming meeting on March 16.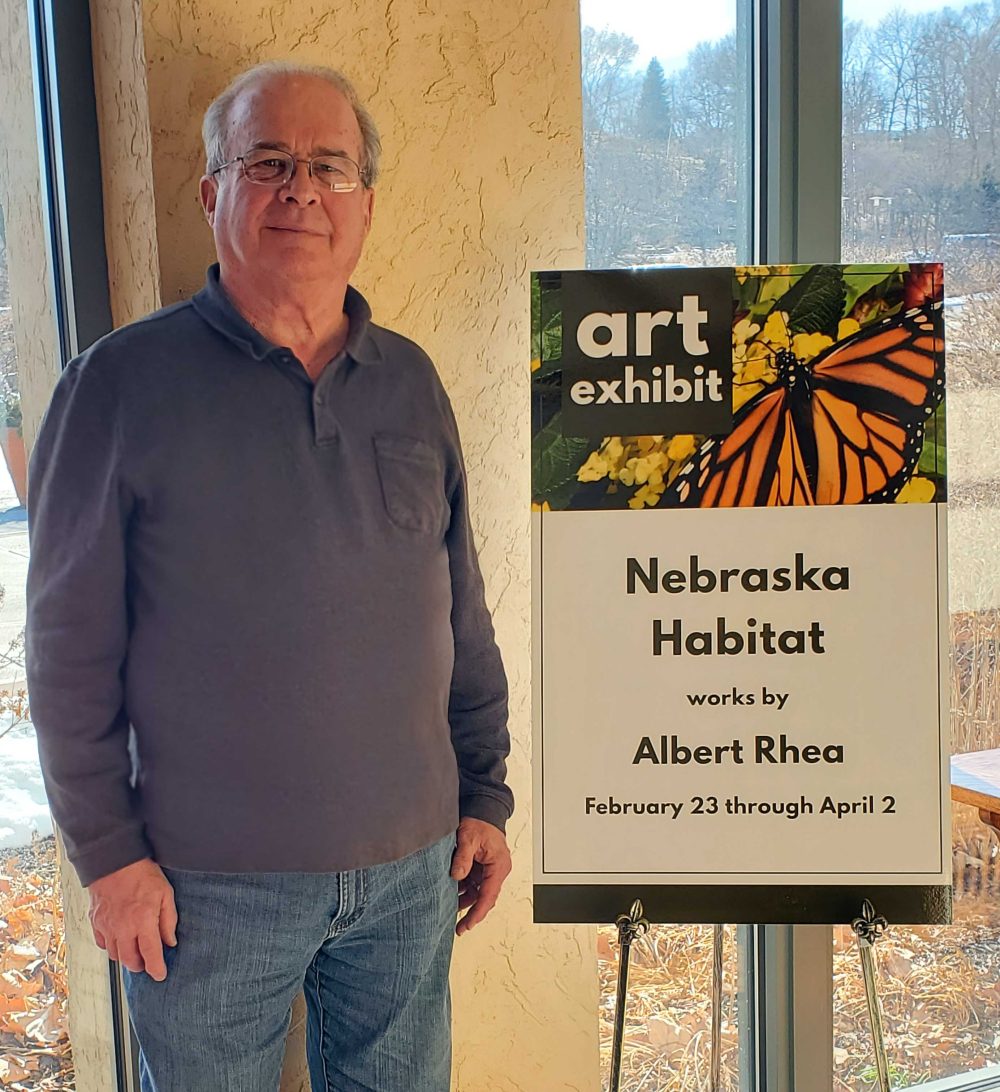 Photo Contest
Kathleen sends us info about a photo contest from the National Wildlife Federation. This is a fee based contest.
Love is in the air! February often brings cold weather, but we hope the tender gaze of this mating pair of Atlantic puffins warms your heart.Photographs like this one, which came to National Wildlife magazine through our annual photo contest, can evoke powerful emotions—from love and compassion to fear and wonder. We want to see it all, so we encourage you to enter your images of wildlife and nature in our 2023 contest. Please enter today for your chance to win.Enter Today! By entering, you may have the chance to see your favorite image of wildlife or nature published in our award-winning magazine and shared widely online. Winners will receive cash prizes. The grand prize winner will be honored with the National Wildlife Nature's Witness Award and receive $5,000. The winner of our portfolio category will receive $750. In each of the eight additional categories, first place wins $500 and second place wins $250. Photo contest entrants are also eligible for the People's Choice Award. Anyone 13+ years of age can get in on the fun and vote.Even more important, the modest entry fee supports the conservation work of the National Wildlife Federation, which is dedicated to ensuring that wildlife survive and thrive. So your entry is a gift of love to all creatures that share our world. And if you choose to donate your image, that gift goes even farther to support conservation. We will love seeing your photographs of wildlife from around the globe or your own backyard, so please enter today.Good luck, and Happy February!

Sincerely,Lisa Moore
Editorial Director, National Wildlife Magazine
Here is a link to their website
Bird Photography Tips
Around a 14 minute video. There is an advertisement by the authors.
In Closing
We still need to get a president and vice-president for our club. Please consider volunteering.
That's about all for now. I will post another reminder about the meeting before March 16. If you have any thing you want to know more about please comment below. Or send an email to the webmaster