Fontenelle Forest Photo Club Meeting minutes
| | |
| --- | --- |
| Location: | Fontenelle Forest |
| Date: | 12/16/2021 |
| Time: | 7PM |
| Attendees: | Number in attendance- 17 in person, 3 zooming. |
Agenda items
Welcome by President Phil Mininni.
New members: None
Treasurers report by Kathleen: She was absent. Amount in Treasury is:
$1444.67
No income or expenses last month.
Brent: Nothing new
Sue: Nothing new
Judy and Frank: Out of town
Donna Gray: Not present
Thank you to the Club and Margaret Block-West for the treats tonight.
Survey: 19 have taken it so far. Please take it if you haven't as it closes next week.
The meeting with the forest to go over issues with our website as not been scheduled yet as they have not responded to Phil's email.
Lorraine spoke about her 3 sunset pics. She had learned that the better pictures are after the sun goes behind the horizon and wanted to share her info with the members.
Phil wants each member to send him one winter picture and our members will critique them at the January 20th meeting which will be a zoom meeting only.
Brent and Keith White were scheduled to bring treats next month so maybe you can bring them on March 17th as there was only one person signed up. Just let me know if that would work or not.
Ken Smith presented on Astro/Star photography.
Submitted by Club Secretary: Sue Mininni
Survey Monkey Survey
Our survey is now closed. Thanks to all of you who participated.
Ken Smith's slide presentation
Ken has given me permission to make available his slide presentation from our December meeting. Click on this link
Some members have asked to see the slides with the information Ken showed us. I had posted a link previously that only had his photos.
January 20, 2022 Zoom Meeting
I want to remind everyone that our next meeting in January will be a Zoom meeting only. No in-person meeting at the forest this time.
Winter Scene pictures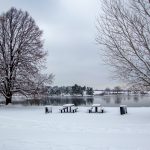 Send me one photo of a winter scene. Anything goes here, as long as it is a winter themed shot. At this time, not much snow on the ground. There is still time before the January 20th meeting. It can be an old photo, you are not limited to having to take a picture from this year. We will present your photos to the club on our Zoom call. Club members will critique. Be prepared to describe your photo and tell us what kind, if any, post processing you did.
More Winter Photo Ideas
This video is about 11.5 minutes. I liked the Scottish accent.
Closing Thoughts
I want to wish you all a Happy New Year. As always I am sure I've forgotten something to talk about. Please comment below if you have any thoughts about anything!
Phil