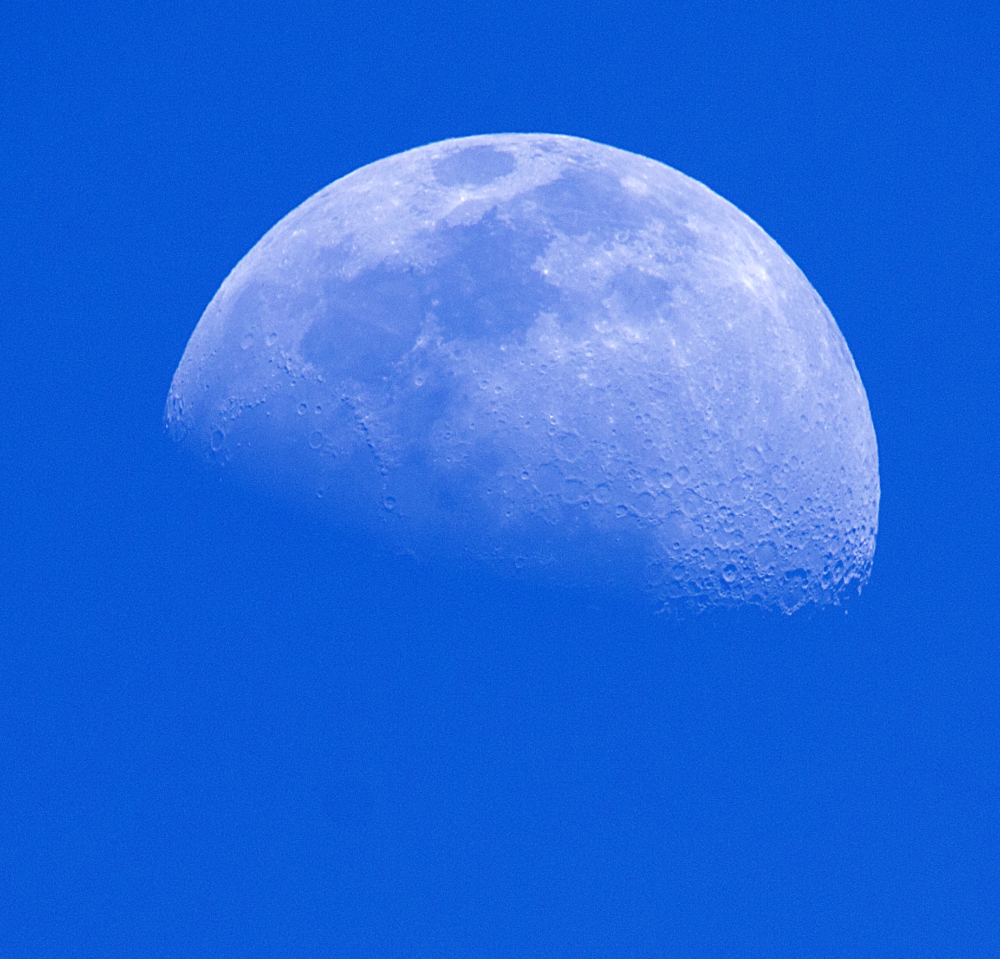 This is from Steve Carson. A really nice shot of the daytime moon. The next full moon is on May 7 at 6:45 AM. The time of the day is for you purest who want to get it at its peak. I will wait to get it later in the evening. I have not receive very many submissions. Get out and take some great pictures of the moon. They don't have to be full either. (Webmaster)
From Steve:
I haven't seen much activity since your challenge, so I thought I might send a recent shot (today).
Daytime moon photo. If you can see it (and sometimes when you can't) you can photograph it.
Here is a shot I took this afternoon (sometime around 4:00; I need to reset the time in my camera).
Tamron 150-600 at 600mm, manual settings and manual focus, f/7, 1/200sec, Canon 7D II, tripod
Photoshop crop, sharpen.
Even on a sturdy tripod, a fully extended 600mm zoom makes the mount a little shaky. I forgot my remote release, so I set the camera on live view with delayed exposure at the longer setting (10sec?). That lets the vibrations settle down after you push the button. I need to find my manual and relearn about mirror lockup. It was also a little breezy this afternoon, and every time the wind hit the lens shade there went the sharp photo. It was also a bit hazy and warm, so there were atmospheric distortions, too. My last excuse is my own fault- I forgot that I should turn off the stabilizer when the camera is on a tripod. First rule in my personal photo book is take lots of pictures. This is the best of the lot.
I also took 2 movies. If I can figure out how to get them into the format needed for Registax, we'll see what we can do when math is used to combine a hundred or more photos.
Cheers!
Steve